Acceder a Plesk
Para acceder a Plesk, abra su navegador y teclee
https

://<

your

 

domain

 

name

 

or

 

the

 

server

 

IP

 

address

>:

8443
en la barra de dirección. Se abrirá la página de acceso a Plesk.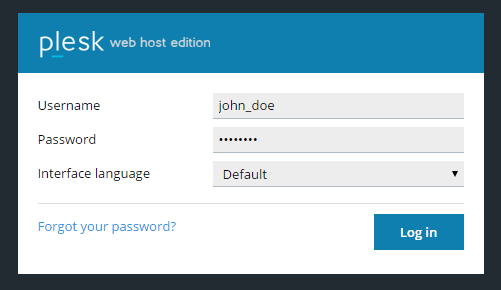 Indique su nombre de usuario y contraseña y haga clic en Iniciar sesión. Si desea ver el interfaz de Plesk en otro idioma, selecciónelo en el menú "Idioma del interfaz" antes de iniciar sesión.
Si es la primera vez que inicia sesión y no está seguro de cuáles son sus credenciales, examine el email que le envió su proveedor de hosting. Lo más probable es que allí se detalle su nombre de usuario y contraseña. Si aún así no puede iniciar sesión, póngase en contacto con su proveedor de hosting.
Nota: Plesk no es su proveedor de hosting ni aloja su sitio web.
---
Leave your feedback on this topic here
If you have questions or need support, please visit the Plesk forum or contact your hosting provider.
The comments below are for feedback on the documentation only. No timely answers or help will be provided.