Anmeldung in Plesk
Um sich in Plesk anzumelden, öffnen Sie einen Browser und geben Sie
https

://<

Ihr

 

Domainname

 

oder

 

die

 

IP

-

Adresse

 

des

 

Servers

>:

8443
in die Adressleiste ein. Die Plesk Anmeldeseite wird geöffnet.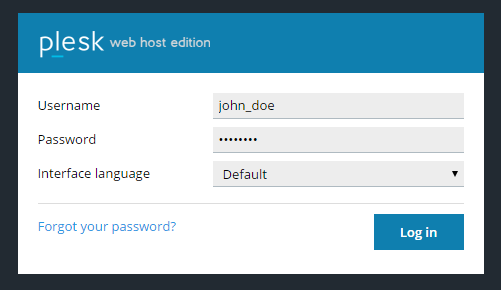 Geben Sie Ihren Benutzernamen und Ihr Passwort ein und klicken Sie auf Anmelden. Wenn Sie die Plesk Oberfläche in einer bestimmten Sprache sehen möchten, wählen Sie die Sprache im Menü der Oberflächensprachen aus, bevor Sie sich anmelden.
Wenn Sie sich zum ersten Mal anmelden und nicht sicher sind, wie Ihr Benutzername und Ihr Passwort lauten, suchen Sie in Ihrem Posteingang nach einer E-Mail von Ihrem Hosting-Provider. Sie finden diese Angaben wahrscheinlich in einer E-Mail. Wenn Sie sich trotzdem nicht anmelden können, wenden Sie sich bitte an Ihren Hosting-Provider.
Hinweis: Plesk ist nicht Ihr Hosting-Provider und hostet nicht Ihre Website.
---
Leave your feedback on this topic here
If you have questions or need support, please visit the Plesk forum or contact your hosting provider.
The comments below are for feedback on the documentation only. No timely answers or help will be provided.