Accedi a Plesk
Per accedere a Plesk, apri il browser e digita
https

://<

nome

 

di

 

dominio

 

o

 

indirizzo

 

IP

 

del

 

server

>:

8443
nella barra degli indirizzi. Si aprirà la pagina di accesso di Plesk.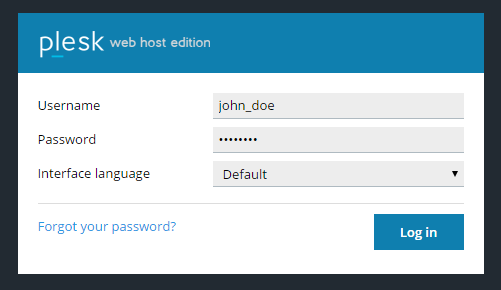 Inserisci il tuo nome utente e la password, quindi fai clic su Accesso. Se si desidera visualizzare l'interfaccia di Plesk in una lingua specifica, selezionarla dal menu "Lingua dell'interfaccia" prima di accedere.
Se stai accedendo per la prima volta e non sei sicuro del tuo nome utente e della tua password, controlla nella casella postale se hai ricevuto un'e-mail dal tuo provider di hosting. Molto probabilmente, potrai trovarvi il tuo nome utente e la password. Se non riesci comunque ad accedere, contatta il tuo provider di hosting per assistenza.
Nota: Plesk non è il tuo provider di hosting e non ospita il tuo sito web.
---
Leave your feedback on this topic here
If you have questions or need support, please visit the Plesk forum or contact your hosting provider.
The comments below are for feedback on the documentation only. No timely answers or help will be provided.