Date et heure du système
Vous pouvez configurer manuellement la date et l'heure du serveur via l'interface. Vous pouvez également activer la synchronisation de l'heure du serveur avec un serveur NTP (Network Time Protocol).
Pour régler les paramètres de date et d'heure du système :
Allez sous Outils & Paramètres > Date et heure du système.
Définissez les paramètres date et heure comme voulu puis sélectionnez votre fuseau horaire.

Il vous faudra redémarrer votre serveur géré Plesk-pour que le changement de fuseau horaire prenne effet.

Remarque pour les utilisateurs de Plesk pour Windows : décochez la case Régler l'heure automatiquement pour les passages à l'heure d'été/d'hiver si vous ne voulez pas que Plesk modifie automatiquement l'heure du serveur.

Pour synchroniser l'heure de votre serveur avec celle d'un serveur fonctionnant avec NTP, cochez la case Synchroniser l'heure du système puis indiquez une adresse IP ou un nom de domaine valide. Pour une liste des serveurs NTP disponibles, rendez-vous sur http://support.ntp.org/bin/view/Servers/WebSearch.
Cliquez sur OK.
Remarque : si vous activez la fonction Synchroniser l'heure du système, elle annulera l'heure et la date que vous avez saisies dans les champs Date et heure du système. Assurez-vous également que le nom de domaine ou l'adresse IP que vous saisissez pour la synchronisation correspond à un serveur NTP valable. Sinon, cette fonction ne marchera pas et votre serveur continuera de tourner avec ses paramètres de date et d'heure actuels.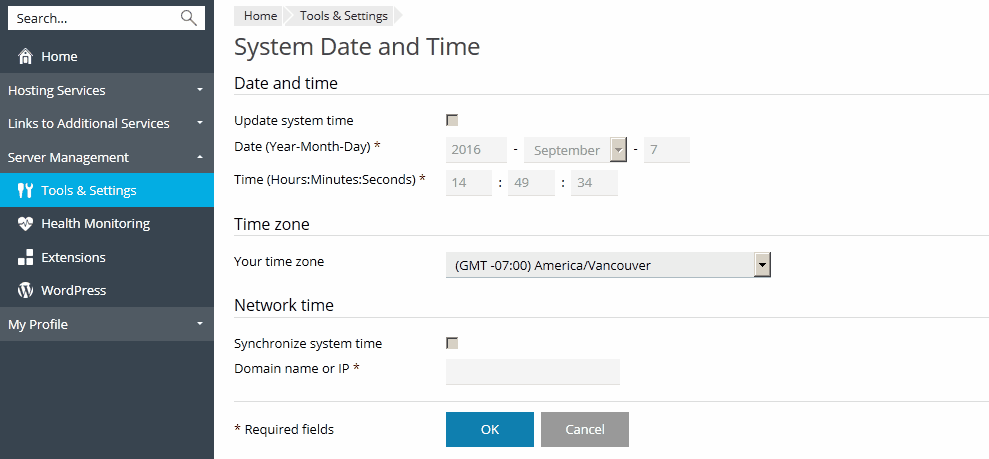 ---
Leave your feedback on this topic here
If you have questions or need support, please visit the Plesk forum or contact your hosting provider.
The comments below are for feedback on the documentation only. No timely answers or help will be provided.