Se connecter à Plesk
Pour vous connecter à Plesk ouvrez votre navigateur et saisissez
https

://<

votre

 

nom

 

de

 

domaine

 

ou

 

l

'

adresse

 

IP

 

du

 

serveur

>:

8443
dans la barre d'adresse. La page de connexion de Plesk s'ouvre.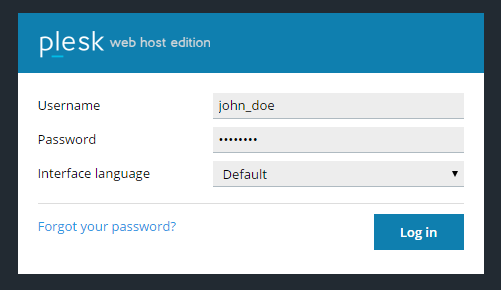 Saisissez votre nom d'utilisateur ainsi que votre mot de passe et cliquez sur Se connecter. Pour changer la langue de l'interface de Plesk, sélectionnez-la dans le menu "Langue de l'interface" avant de vous connecter.
Si vous vous connectez pour la première fois et n'êtes pas sûr de votre nom d'utilisateur et mot de passe, cherchez-les dans un mail de votre fournisseur d'hébergement. En général cette méthode permet de retrouver ces informations. Sinon, contactez votre fournisseur d'hébergement.
Remarque : Plesk n'est pas votre fournisseur d'hébergement et n'héberge pas votre site Web.
---
Leave your feedback on this topic here
If you have questions or need support, please visit the Plesk forum or contact your hosting provider.
The comments below are for feedback on the documentation only. No timely answers or help will be provided.