Installazione di Plesk per Windows tramite la console dell'installer
Se desideri selezionare componenti specifici di Plesk per l'installazione, puoi installare Plesk utilizzando la console interattiva. Procedura per iniziare:
Accedi al server tramite RDP.

Scarica Plesk Installer.

Avvia il prompt dei comandi di Windows. Sostituisci la directory di lavoro con quella in cui hai salvato il file binario dell'installer, quindi esegui questo comando:

plesk-installer.exe --console

This will launch the console in the command prompt window.
Se desideri installare una versione di Plesk precedente, esegui:
plesk-installer.exe --console --all-versions

Se per l'installazione si preferisce utilizzare un'interfaccia grafica, vedere l'argomento GUI dell'installer.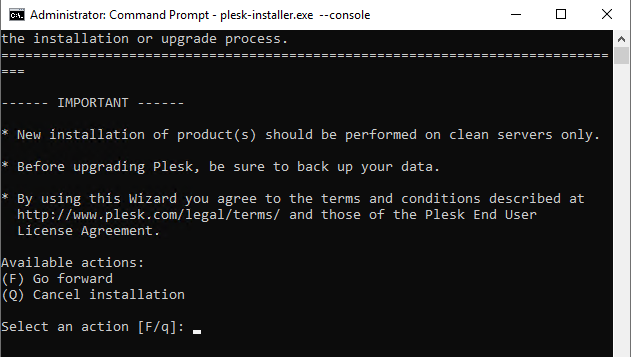 Read the text marked with «IMPORTANT», then type F in the command prompt and hit the Enter key to proceed.
Quindi occorre selezionare la versione di Plesk da installare.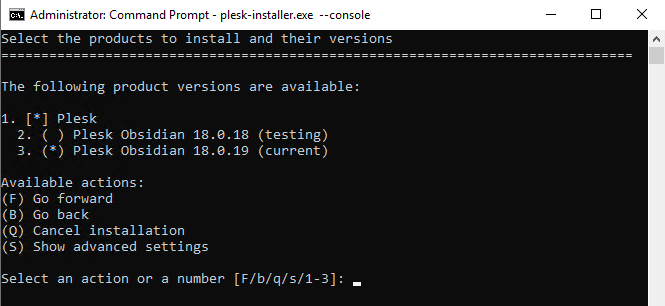 If you ran the installer with the --all-versions option, the list of available Plesk versions will be different.
Here you can also see how to specify a number of advanced settings by typing S:
The directory to which the installer will download files.
The source of the installation files. By default, they are downloaded from Plesk servers. However, you may want to install from a different server (for example, if you have set up a

local mirror

), or from the local disk (if you have downloaded the installation files beforehand).
The proxy server address and, if required, username and password (if you are installing Plesk on a server behind an HTTP proxy), and so on.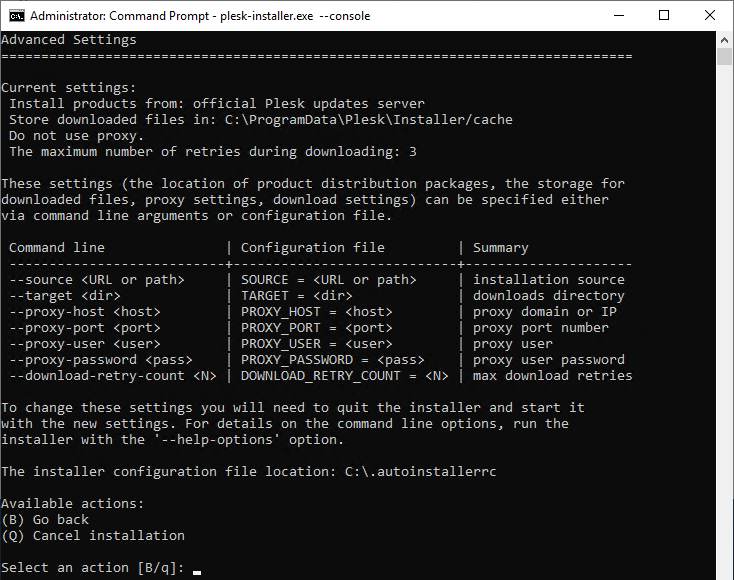 To configure these settings, specify them either via command line arguments or via the configuration file, quit the installer, and then start it with the new settings.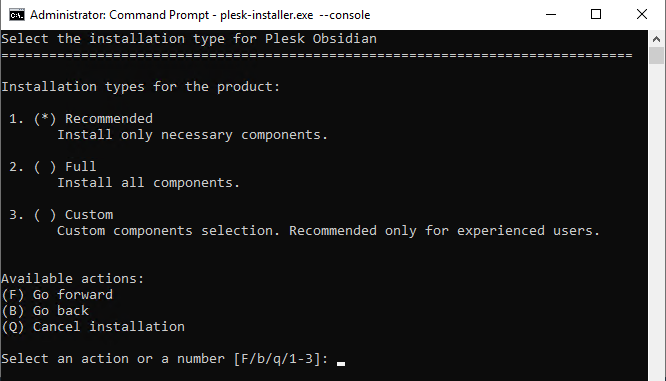 E ora arriviamo alla parte divertente. Per procedere, seleziona uno dei seguenti tipi di installazione:
Il tipo di installazione Consigliato include tutti i componenti necessari per l'hosting web (compresi il server web, un server di posta, un server di database, e così via), oltre alle caratteristiche più popolari e ampiamente utilizzate. Se non sei sicuro su quale tipo di installazione scegliere, normalmente l'opzione Consigliato è la decisione migliore.
Il tipo di installazione Completo include tutti i componenti e le caratteristiche di Plesk. Tieni presente che questo tipo di installazione richiede più spazio su disco.
Il tipo di installazione Personalizzato consente di selezionare gli elementi da installare nella lista di tutti componenti e le caratteristiche disponibili. Questo tipo di installazione è consigliato per gli amministratori di Plesk esperti.
Non temere di poter scegliere un tipo di installazione inadatto per le tue esigenze: è infatti sempre possibile aggiungere o rimuovere componenti di Plesk in qualsiasi momento, a installazione conclusa.

Una volta selezionato il tipo di installazione, potrebbe esserti richiesto di configurare impostazioni aggiuntive, come la directory di installazione di Plesk, la directory di memorizzazione del contenuto dei siti web ospitati in Plesk e la password per l'utente «Ammin» di Plesk (avrai accesso a Plesk utilizzando il nome utente e la password specificati).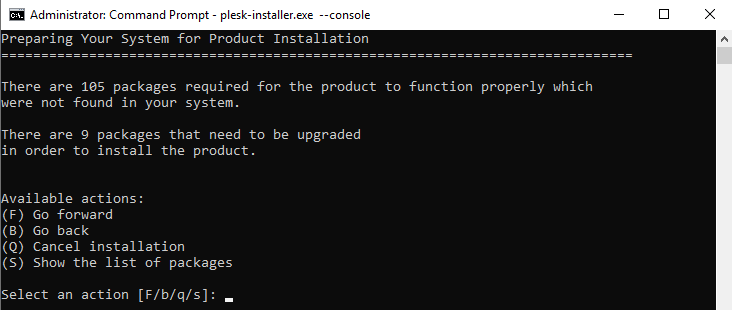 A questo punto hai l'ultima opportunità di verificare la lista dei componenti e delle caratteristiche da installare. Se sei soddisfatto della selezione operata, digita F e premi Invio per iniziare l'installazione.
Solitamente l'installazione richiede fra trenta e novanta minuti, a seconda del numero di componenti selezionati per l'installazione, le risorse di sistema disponibili e la velocità di connessione a Internet. Al termine è necessario eseguire la configurazione successiva all'installazione; per ulteriori informazioni, vedere l'argomento Configurazione successiva all'installazione.