Het ondertekenen van e-mails met DKIM inschakelen
Enabling DKIM for a domain attaches a special header to every email sent from the domain. This header contains a cryptographic private key. The recipient mail servers use a public key to verify that an email was indeed sent from the domain and no one tampered with the email content in transit. Emails that do not have the header will be detected as not authentic.
You can enable DKIM email signing for domains that use the Plesk DNS server and those that use an external DNS server.
You enable DKIM signing for each individual domain.
To enable DKIM signing of outgoing mail for a domain:
Go to Websites & Domains > your domain > the "Mail" tab > Mail Settings.

Select the "Use DKIM spam protection system to sign outgoing email messages" checkbox and then click Apply.

If you use the Plesk DNS server, you have enabled DKIM for the domain. Plesk adds the following two records to the DNS zone of the domain (example.com stands for your domain name):

default._domainkey.example.com

contains the public part of the generated key.

_

domainkey.example.com

contains the DKIM policy. You can edit this policy.

If you use an external DNS server, you have one more step left. Plesk cannot add the DNS records to the external DNS server. Add them yourself using a hint from Plesk.

Click "How to configure external DNS" to open the hint. Copy two DNS records you see there and add them to the DNS server.
Notitie: If you have domain aliases you use to send mail, add the DKIM DNS records for them as well. Use the same records as for the main domain but with the domain alias name.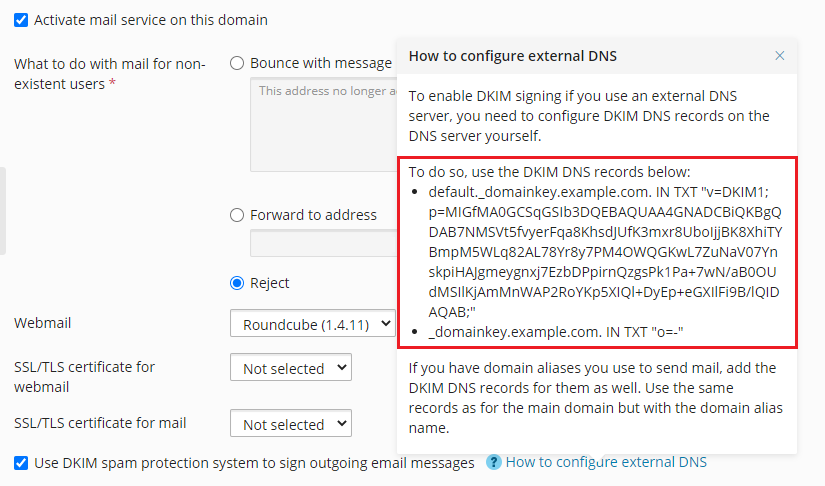 SPF- en DMARC-beleid voor uitgaande e-mail
Naast DKIM ondersteunt Plesk SPF en DMARC voor uitgaande mail. DMARC voert het opgegeven beleid uit dat bepaalt hoe e-mailberichten moeten worden behandeld, afhankelijk van de resultaten van de DKIM- en SPF-controle. Het standaardbeleid van DMARC is dat berichten die niet door de controle komen, niet worden verwijderd. U kunt gebruik maken van een strenger beleid. U kunt bijvoorbeeld aangeven dat een bericht zowel de SPF- als de DKIM-controle moet doorkomen om door de mailserver van de ontvanger te worden geaccepteerd.
You can change the SPF and DMARC policies for your domain in the domain's DNS settings.
DMARC- of SPF instellen voor uw domein:
Ga naar Websites & Domeinen> ga naar het domein > DNS-instellingen en bewerk de DNS-records die betrekking hebben op SPF of DMARC. Dit record maakt bijvoorbeeld gebruik van het standaardbeleid van DMARC:
_dmarc.<your domain>.    TXT    v=DMARC1; p=none

See more information on DMARC and SPF (including policy notations).