Upgrade von Plesk für Linux mithilfe der Installations-Benutzeroberfläche
If you want to be able to upgrade to a Plesk version other than the latest stable release, you can upgrade using the graphical interface.
Bemerkung: You can upgrade to Plesk Obsidian from Plesk Onyx 17.0 and later. See if your OS is supported. If you use Plesk 12.5 or earlier, upgrade to Plesk Onyx first.
Follow these steps to begin:
wget https://autoinstall.plesk.com/plesk-installer
chmod +x plesk-installer
./plesk-installer --web-interface

Damit wird das Installationsprogramm im Modus der grafischen Benutzeroberfläche gestartet. Um auf sie zuzugreifen, öffnen Sie Ihren Browser und gehen Sie zur folgenden Adresse:
https://<server hostname or IP address>:8447



Wenn Sie das Upgrade lieber über die Befehlszeile durchführen möchten, finden Sie weitere Details unter Upgrade von Plesk für Linux mithilfe der Installationskonsole.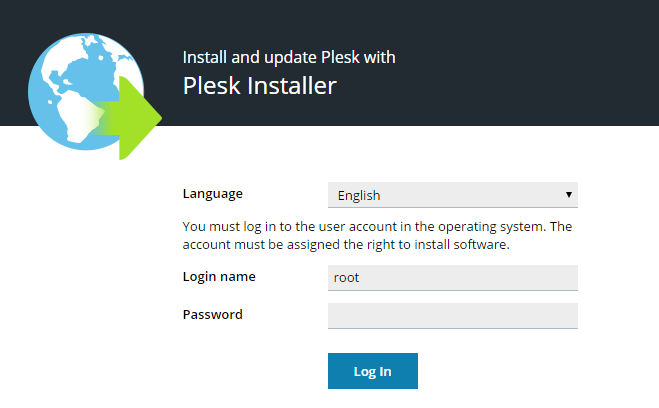 Wählen Sie die gewünschte Sprache für die Oberfläche aus und melden Sie sich mit Ihren Anmeldeinformationen des "root"-Benutzers an.

Unter "Produktzusammenfassung" sehen Sie die derzeit installierte Plesk Version sowie (falls vorhanden) die aktuellste verfügbare Version. Klicken Sie zum Fortfahren auf Produkt installieren oder Upgrade durchführen.

Wählen Sie im Menü die gewünschte Plesk Version aus und klicken Sie auf Fortfahren, um mit dem Upgrade zu beginnen.