Actualización de Plesk para Linux mediante el GUI del installer
Si desea poder actualizar a otra versión de Plesk que no sea la versión estable más reciente, puede efectuar la actualización mediante el interfaz gráfico.
Nota: You can upgrade to Plesk Obsidian from Plesk Onyx 17.0 and later. See if your OS is supported. If you use Plesk 12.5 or earlier, upgrade to Plesk Onyx first.
Realice lo siguiente:
wget https://autoinstall.plesk.com/plesk-installer
chmod +x plesk-installer
./plesk-installer --web-interface

Esto iniciará el installer en el modo de interfaz gráfico. Para acceder a este, abra su navegador e introduzca la siguiente dirección:
https://<server hostname or IP address>:8447



Si de lo contrario prefiere usar una consola de línea de comandos durante la actualización, consulte Actualización de Plesk para Linux mediante la consola del installer.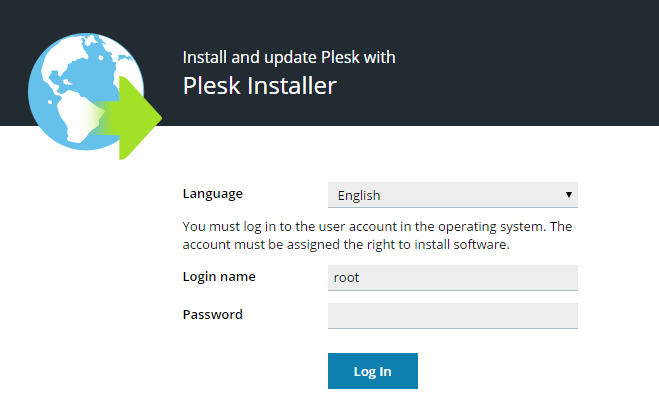 Seleccione el idioma en el que desea ver el interfaz e inicie sesión con las credenciales de su usuario «root».

En «Resumen de productos» podrá ver la versión instalada de Plesk, así como la versión más reciente disponible (de existir). Haga clic en Instalación o actualización del producto para continuar.

En el menú, seleccione la versión deseada de Plesk y haga clic en Continuar para iniciar la actualización.