Interface Preferences
Changing Plesk View
Depending on your goals, Plesk provides two different views you can choose from when working with Plesk:
Select Service Provider if you use Plesk for selling web hosting services.
Select Power User if you use Plesk for you own needs, for example, to manage hosting on a VPS.
Read more about the views in Interface Views.
To change your view, go to Tools & Settings > Interface Management (under "Plesk Appearance").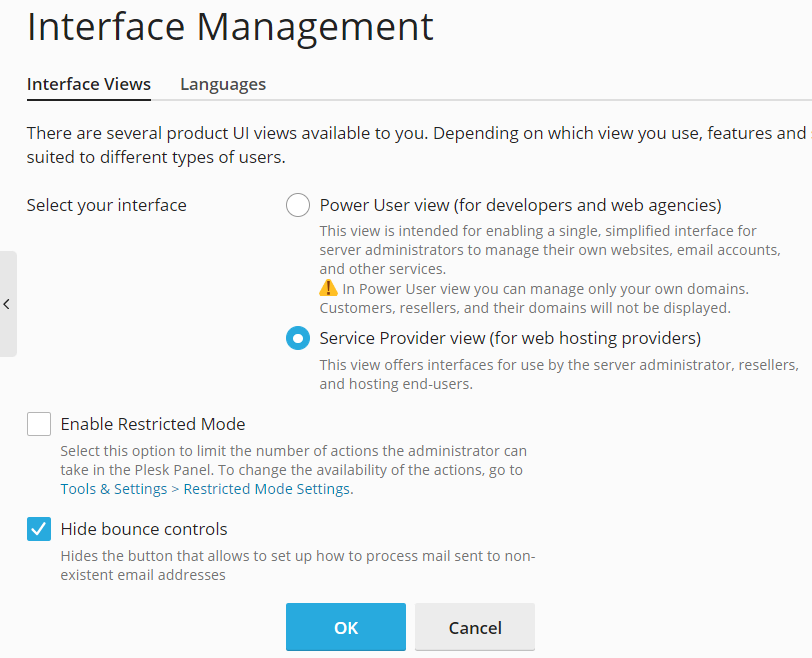 You can also change the interface view by clicking the Change View button at the left bottom part of the screen and selecting the required view.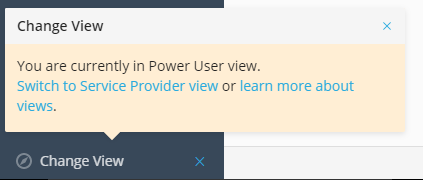 Enabling Restricted Mode
Restricted Mode limits the number of tools available to the Plesk administrator in the Plesk interface.
To enable Restricted Mode with the default configuration, select the "Enable Restricted Mode" checkbox and then click OK.
Hiding Bounce Controls
Mail bounce policies define what to do with emails sent to non-existent recipients (for example, return emails back to the sender with a notice or forward to another email address).
You can prohibit your users from using their own mail bounce policies by hiding bounce controls. In this case, the "Mail for Non-Existent Users" button, which leads to bounce controls, will not be displayed in the mail settings.

To hide the button and bounce controls, select the "Hide bounce controls" checkbox and then click OK.