Managing Database Servers
Operator: <db_server>. Deprecated in 1.3.5.1-1.4.2.0 XML-RPC protocol versions.
XML Schema: database_input.xsd, database_output.xsd
Plesk version: Plesk for MS Windows 7.0, Plesk 7.5.4 for Unix and later
API RPC version: 1.3.5.1 and higher
Plesk user: Plesk Administrator
Description
Managing database servers differs in Plesk for Unix and Plesk for Windows, basing on what databases are supported: Plesk for Windows supports MySQL and Microsoft SQL Server databases, Plesk for Unix supports MySQL and PostgreSQL databases.
 A default database server is the one on which databases of a particular type are created by default, i.e., without specifying the parent database server. Only one default database server for each type of databases is available in Plesk.
Note: Use lower case for defining database servers types. In other case, the request might be incorrectly processed by Plesk server.
Supported operations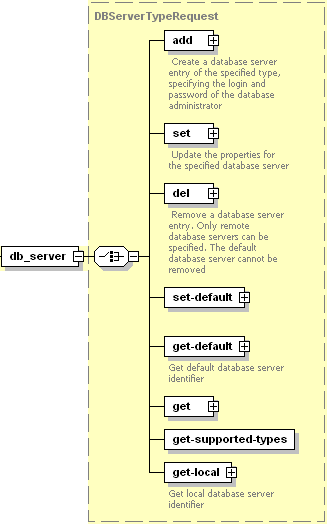 ---
Leave your feedback on this topic here
If you have questions or need support, please visit the Plesk forum or contact your hosting provider.
The comments below are for feedback on the documentation only. No timely answers or help will be provided.