Managing Reseller Accounts
Operator: <reseller>. Deprecated in 1.6.2.0 XML-RPC protocol version.
XML Schema: reseller.xsd
Plesk version: Plesk 9.0 and later for Windows, Plesk 9.0 and later for Linux
XML API version: 1.6.0.0 and later
Plesk user: Plesk Administrator, Plesk reseller
Description
Resellers are the Plesk users who own and manage customer accounts. All reseller accounts are managed by the Administrator. Once created, a reseller account is allotted a portion of Plesk server resources. A reseller account can be created with a unique collection of settings, or this can be done using a reseller plan that holds a collection of predefined settings. To learn more about reseller plans, refer to the Managing Reseller Plans section.
Summing up, a reseller account presents a set of reseller personal data and a collection of various settings. These settings are as follows:
Limits on Plesk resources usage, and limits usage policy
Permissions
Application pool settings
Supported Operations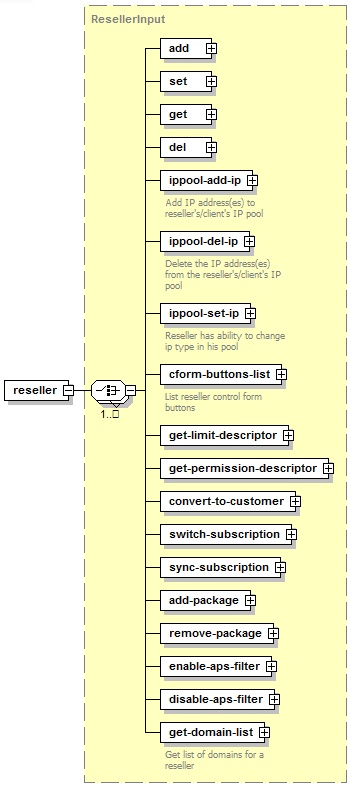 ---
Leave your feedback on this topic here
If you have questions or need support, please visit the Plesk forum or contact your hosting provider.
The comments below are for feedback on the documentation only. No timely answers or help will be provided.