Instalación de Plesk para Windows mediante la consola del installer
Si desea seleccionar componentes específicos de Plesk para proceder con su instalación, puede instalar Plesk usando la consola interactiva. Realice lo siguiente:
Acceda al servidor mediante RDP.

Descargue Plesk Installer.

Inicie el símbolo del sistema de Windows. Cambie al directorio donde ha guardado el ejecutable del installer y ejecute el siguiente comando:

plesk-installer.exe --console

This will launch the console in the command prompt window.
Si desea instalar una versión anterior de Plesk, ejecute:
plesk-installer.exe --console --all-versions

Si de lo contrario prefiere usar un interfaz gráfico para la instalación, consulte GUI del installer.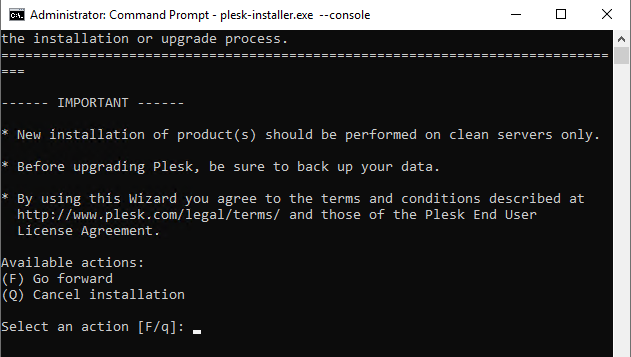 Read the text marked with «IMPORTANT», then type F in the command prompt and hit the Enter key to proceed.
A continuación, seleccione la versión de Plesk que desea instalar.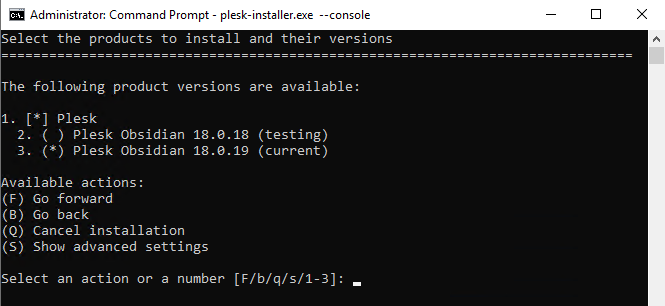 If you ran the installer with the --all-versions option, the list of available Plesk versions will be different.
Here you can also see how to specify a number of advanced settings by typing S:
The directory to which the installer will download files.
The source of the installation files. By default, they are downloaded from Plesk servers. However, you may want to install from a different server (for example, if you have set up a

local mirror

), or from the local disk (if you have downloaded the installation files beforehand).
The proxy server address and, if required, username and password (if you are installing Plesk on a server behind an HTTP proxy), and so on.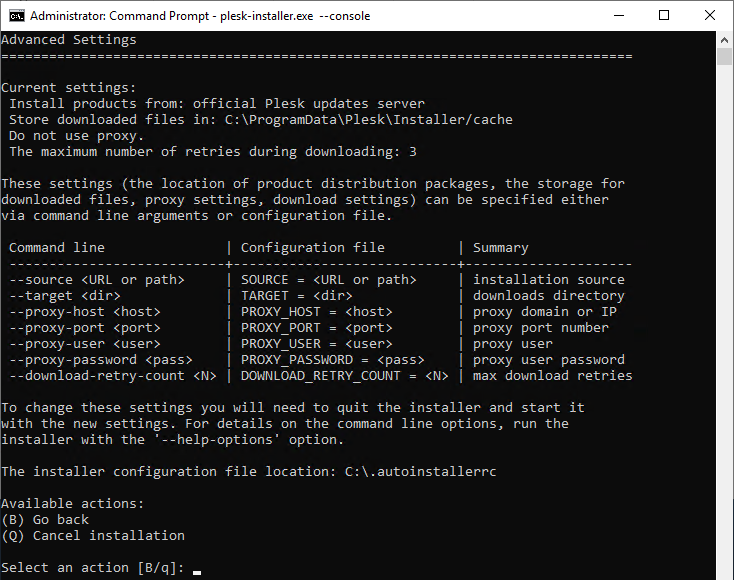 To configure these settings, specify them either via command line arguments or via the configuration file, quit the installer, and then start it with the new settings.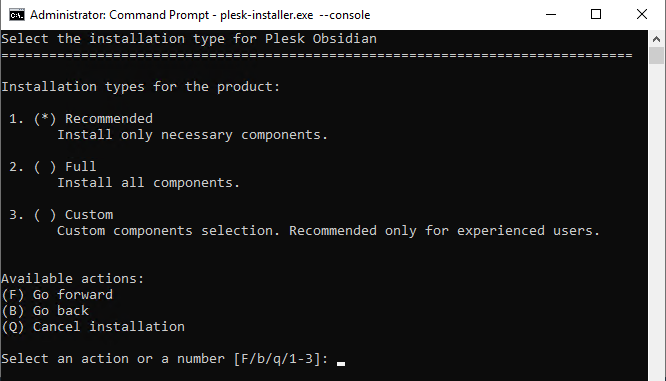 Ahora viene la parte divertida. Seleccione uno de los siguientes tipos de instalación:
La instalación recomendada incluye todos los componentes necesarios para el hosting web - incluyendo el servidor web, un servidor de correo, un servidor de bases de datos, etc. - además de las prestaciones más populares y usadas con más frecuencia. Si no está seguro del tipo de instalación a seleccionar, lo más recomendable es seleccionar la instalación recomendada.
La instalación completa incluye todos los componentes y prestaciones de Plesk. Tenga en cuenta que este tipo de instalación es la que usará más espacio en disco.
La instalación personalizada le permite seleccionar los elementos a instalar a partir de una lista de todos los componentes y prestaciones disponibles. Este tipo de instalación es la recomendada para administradores de Plesk con experiencia.
No se preocupe si selecciona un tipo de instalación que a lo mejor no es el más apropiado para sus necesidades, puesto que una vez completada la instalación podrá añadir o eliminar componentes de Plesk.

Una vez seleccionado el tipo de instalación, puede que se le pida que configure otros ajustes, como por ejemplo el directorio de instalación de Plesk, el directorio donde almacenar el contenido de los sitios web alojados en Plesk y la contraseña del usuario «admin» de Plesk (iniciará sesión en Plesk usando las credenciales especificadas).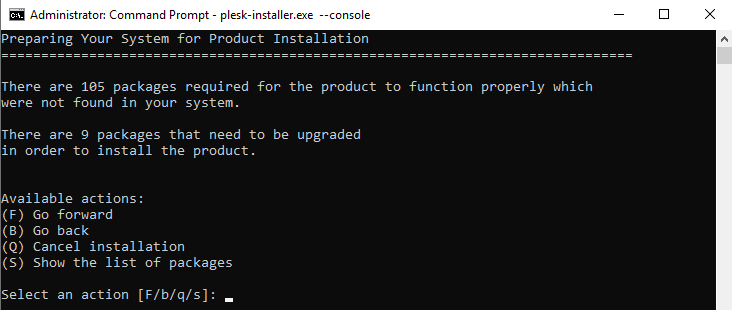 Aquí es la última vez que puede revisar la lista de componentes y prestaciones a instalar. Si está de acuerdo con su selección, introduzca F y presione Enter para iniciar la instalación.
El proceso de instalación suele tardar entre 30 y 90 minutos, siempre en función del número de componentes a instalar, los recursos de sistema disponibles y la velocidad de la conexión a Internet. Una vez completada la instalación deberá proceder con la configuración postinstalación. En la sección Configuración posterior a la instalación obtendrá más información al respecto.