Configurer Plesk après installation sur un seul serveur
Se connecter à Plesk pour la première fois
Une fois Plesk installé, vous devez effectuer quelques réglages sur l'écran de bienvenue de Plesk avant de démarrer votre travail (cf. capture d'écran ci-dessous). Les instructions suivantes décrivent le processus.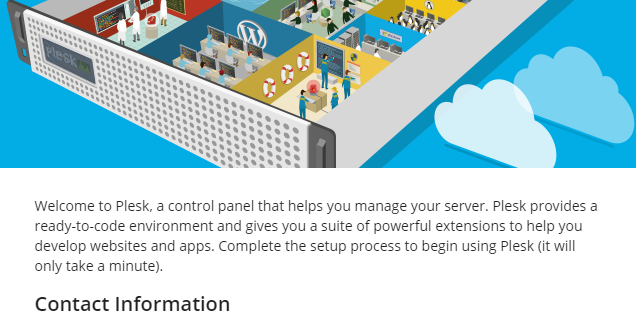 Pour vous connecter à Plesk pour la première fois :
Note: Si vous êtes déjà sur l'écran de bienvenue de Plesk, ignorez les deux premières étapes et passez à l'étape 3.
Ouvrez l'URL suivante dans votre navigateur :

https

:

//<

SERVER_HOSTNAME_OR_IP_ADDRESS

>




Vous êtes sur la page de connexion de Plesk. Lors de la première connexion, saisissez le nom d'utilisateur avancé du système et le mot de passe.

(Sur Linux)

root

et votre mot de passe root du serveur
(Sur Windows)

Administrator

et le mot de passe de l'administrateur du serveur

Saisissez l'adresse mail et le mot de passe Plesk dans les champs correspondants. Lors de votre prochaine connexion à Plesk, utilisez ce mot de passe et le nom d'utilisateur admin.

Note: Lors de votre prochaine connexion, vous pourrez aussi utiliser vos comptes Google, GitHub ou Facebook. Pour cela, saisissez l'adresse mail de votre compte. Ensuite, à la prochaine connexion à Plesk vous serez connecté directement avec le compte associé. Vous pouvez aussi associer un compte à tout moment ultérieurement dans Plesk Mon profil.

Choisissez votre licence :

Si vous avez déjà acheté une licence Plesk, collez le code d'activation que vous avez reçu dans le champ « Continuer avec une licence payante ». Si non, achetez une licence dans la Boutique en ligne de Plesk. Vous recevrez un mail avec votre code d'activation.
Avant d'acheter une licence payante, vous pouvez évaluer Plesk pendant 14 jours en testant notre édition Plesk Onyx Web Pro. Pour cela, sélectionnez « Continuer avec une licence de test complète ».

Lisez et confirmez le Contrat de Licence Utilisateur Final en cochant la case correspondante. Puis cliquez sur Entrer dans Plesk.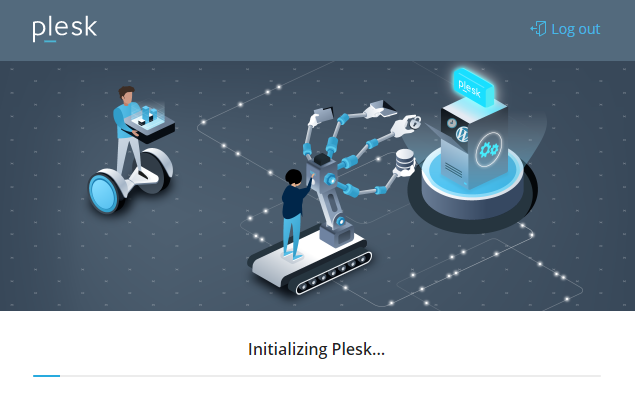 Une fois que la courte installation est terminée, Plesk est prêt à l'emploi.
Vous pouvez commencer par créer votre premier site Web.
Si vous êtes hébergeur, vous aurez peut-être besoin de créer d'abord un client. Dans ce cas, basculez en Vue Fournisseur de services.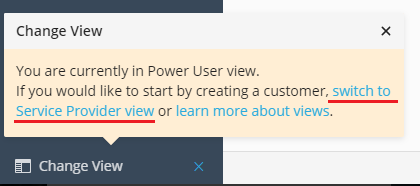 Vous pouvez lire une brève présentation des vues Plesk ci-dessous.
Choisir le type d'interface
Pour mieux répondre aux besoins des différents types d'utilisateurs, Plesk offre deux types d'interfaces utilisateur, appelées vues :
La vue Power User convient pour tout individu utilisant Plesk pour ses besoins personnels, par exemple pour gérer un serveur de messagerie ou un site Web personnel.
La vue Fournisseur de services est conçue pour répondre aux besoins des hébergeurs classiques souhaitant servir un grand nombre de clients. Cette vue est disponible dans les éditions Web Pro et Web Host.
Note: Vous pouvez changer de vue à tout moment.
Consultez cette page pour lire la description complète des vues de Plesk.
Masquer les commandes et les contrôles de Plesk
Si vous configurez Plesk pour que d'autres utilisateurs s'en servent, vous pouvez masquer certains contrôles et outils afin de les rendre indisponibles en activant le Mode Restreint.
SSL/TLS Certificates Securing Plesk
By default, Plesk is automatically secured with an SSL/TLS certificate from Let's Encrypt. The certificate secures the transferred data each time you and your customers (if any) access Plesk.
In certain cases, a new Plesk server does not have a resolvable hostname. In this case, Let's Encrypt cannot issue a certificate, which could leave the Plesk server unprotected. Additionally, each time anyone visits Plesk, they would see a warning about an untrusted connection.
To prevent this from happening, Plesk generates a temporary server hostname if the actual server hostname is non-resolvable. The temporary server hostname is based on the server IP address and has a randomly generated prefix, which enhances security, for example, purple-bear.192-0-2-1.plesk.page, where:
purple-bear

is a random prefix.

192.0.2.1

is the server IP address.
Using the temporary server hostname, Let's Encrypt issues a certificate that secures Plesk.
To ensure that the temporary server hostname does not get in the way of your configuration, the hostname is generated only if both of these conditions are met:
The actual server hostname is not resolvable during Plesk installation.
You did not provide the server hostname during the

initial configuration

of the Plesk server (via the CLI using the

init_conf

utility).
Note: If you provided a server hostname after a temporary one had been already generated and after having worked in Plesk for some time, Plesk will not reissue the Let's Encrypt certificate securing the server. You need to issue a certificate for the new hostname manually.