Installer Plesk pour Windows avec la console du programme d'installation
Si vous souhaitez sélectionner des composants spécifiques de Plesk à installer, vous pouvez installer Plesk avec la console interactive. Pour commencer, procédez comme suit :
Connectez-vous au serveur via RDP.

Téléchargez le programme d'installation de Plesk.

Lancez l'invite de commande Windows. Remplacez le répertoire actuel par celui où vous avez enregistré le fichier binaire, puis exécutez la commande suivante :

plesk-installer.exe --console

This will launch the console in the command prompt window.
Pour installer une version antérieure de Plesk, exécutez cette commande :
plesk-installer.exe --console --all-versions

Si vous préférez installer via une interface graphique, consultez la section Interface du programme d'installation.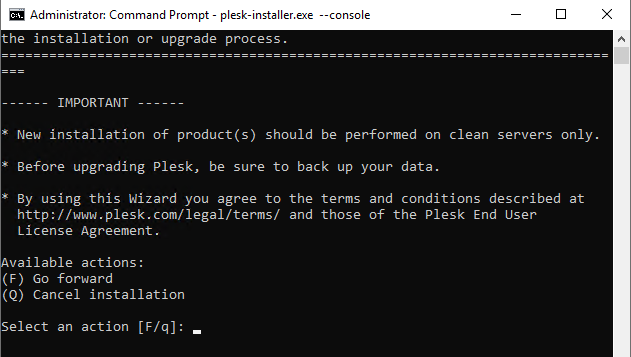 Read the text marked with « IMPORTANT », then type F in the command prompt and hit the Enter key to proceed.
Ensuite, vous devez sélectionner la version de Plesk à installer.
If you ran the installer with the --all-versions option, the list of available Plesk versions will be different.
Here you can also see how to specify a number of advanced settings by typing S:
The directory to which the installer will download files.
The source of the installation files. By default, they are downloaded from Plesk servers. However, you may want to install from a different server (for example, if you have set up a

local mirror

), or from the local disk (if you have downloaded the installation files beforehand).
The proxy server address and, if required, username and password (if you are installing Plesk on a server behind an HTTP proxy), and so on.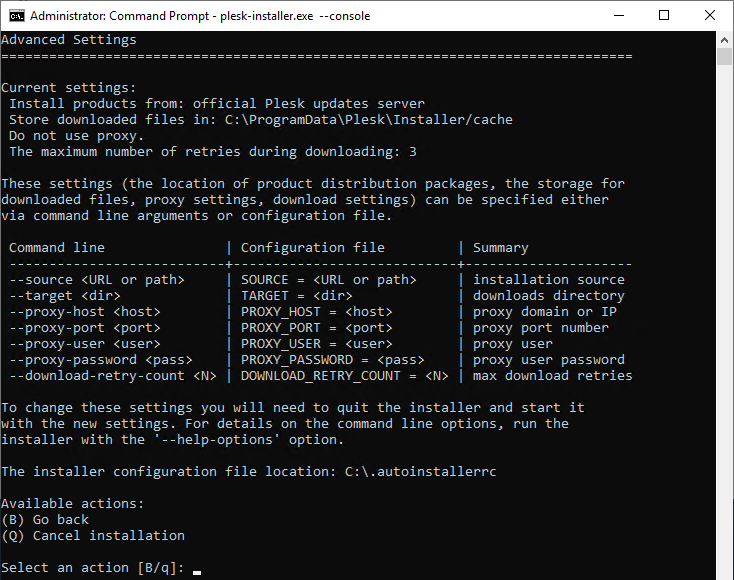 To configure these settings, specify them either via command line arguments or via the configuration file, quit the installer, and then start it with the new settings.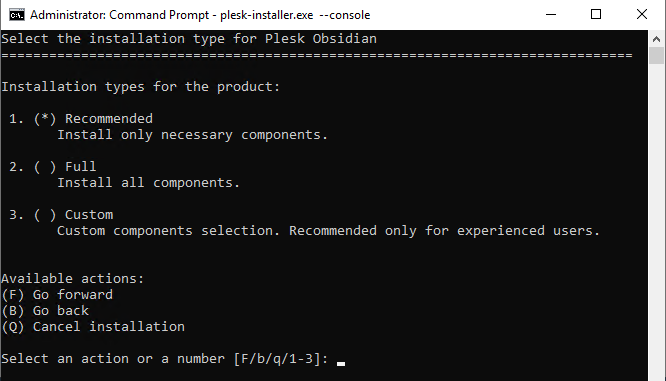 Nous en arrivons au meilleur moment. Sélectionnez l'un de ces types d'installation pour continuer :
Le type d'installation Recommandé inclut tous les composants nécessaires à l'hébergement Web (y compris le serveur Web, un serveur de messagerie, un serveur de bases de données, etc.), ainsi que les fonctionnalités les plus populaires. Si vous n'êtes pas certain du type d'installation requis, choisissez Recommandé.
Le type d'installation Complet inclut tous les composants et fonctionnalités de Plesk. Notez bien qu'il s'agit du type d'installation occupant le plus d'espace disque.
Le type d'installation Personnalisé vous permet de choisir les éléments à installer à partir de la liste des composants et fonctionnalités disponibles. Ce type d'installation est recommandé pour les administrateurs Plesk expérimentés.
Ne craignez pas de vous tromper de type d'installation ; vous pourrez ajouter ou supprimer des composants Plesk à tout moment après installation.

Après avoir sélectionné le type d'installation, vous devez configurer d'autres paramètres, tels que le répertoire d'installation de Plesk, le répertoire de stockage du contenu des sites Web hébergés dans Plesk et le mot de passe de l'utilisateur  » admin  » de Plesk (que vous utiliserez pour vous connecter à Plesk).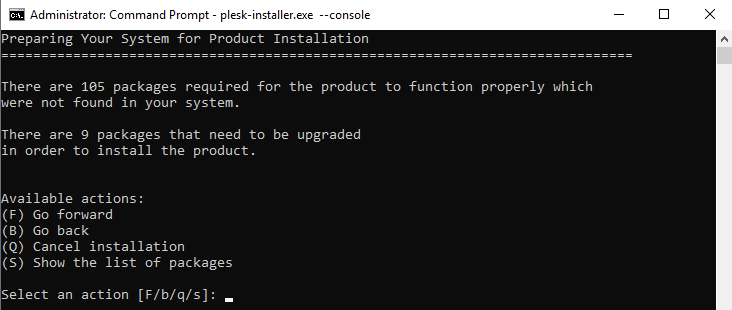 À ce moment, vous êtes une dernière fois invité à vérifier la liste des composants et fonctionnalités à installer. Si vos choix vous conviennent, tapez F et Entrée pour lancer l'installation.
L'installation dure généralement entre 30 et 90 minutes, selon le nombre de composants à installer, les ressources système disponibles et la vitesse de la connexion Internet. Une fois l'installation terminée, vous devez procéder à la configuration post-installation ; voyez la section sur la configuration post-installation pour plus de détails.