Mettre à niveau Plesk pour Windows avec l'interface du programme d'installation
If you want to be able to upgrade to a Plesk version other than the latest stable release, you can upgrade using the graphical interface.
Note: You can upgrade to Plesk Obsidian from Plesk Onyx 17.0 and later. See if your OS is supported. If you use Plesk 12.5 or earlier, upgrade to Plesk Onyx first.
Follow these steps to begin:
Connectez-vous au serveur via RDP.
Téléchargez le programme d'installation de Plesk.
Lancez l'invite de commande Windows. Remplacez le répertoire actuel par celui où vous avez enregistré le fichier binaire, puis exécutez la commande suivante :
plesk-installer.exe --web-interface

This will launch the web interface in a browser window.
Si vous préférez utiliser une console de ligne de commande pendant la mise à niveau, consultez la section Mettre à niveau Plesk pour Windows avec la console du programme d'installation.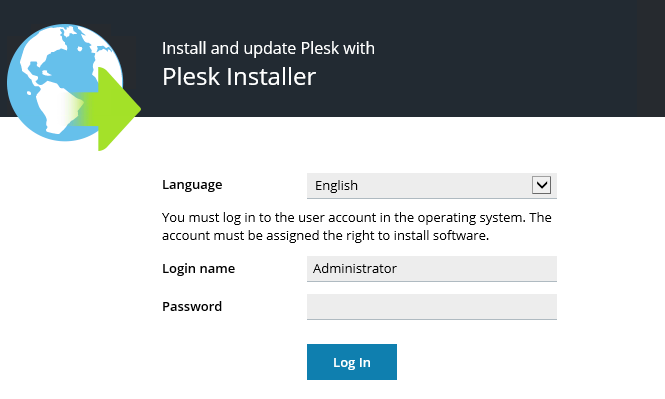 Sélectionnez la langue voulue pour l'interface et connectez-vous avec vos identifiants administrateur Windows pour continuer.

Sous  » Récapitulatif  », vous pouvez voir votre version actuelle de Plesk et la dernière version disponible (le cas échéant). Cliquez sur Installer ou mettre à niveau le produit pour continuer.

Sélectionnez la version voulue de Plesk dans le menu et cliquez sur Continuer pour lancer la mise à niveau.