Aggiornamento di Plesk per Windows tramite la GUI dell'installer
If you want to be able to upgrade to a Plesk version other than the latest stable release, you can upgrade using the graphical interface.
Nota: You can upgrade to Plesk Obsidian from Plesk Onyx 17.0 and later. See if your OS is supported. If you use Plesk 12.5 or earlier, upgrade to Plesk Onyx first.
Follow these steps to begin:
Accedi al server tramite RDP.
Scarica Plesk Installer.
Avvia il prompt dei comandi di Windows. Sostituisci la directory di lavoro con quella in cui hai salvato il file binario dell'installer, quindi esegui questo comando:
plesk-installer.exe --web-interface

This will launch the web interface in a browser window.
Se si preferisce utilizzare una console per riga di comando durante l'aggiornamento, vedere l'argomento Aggiornamento di Plesk per Windows tramite la console dell'installer.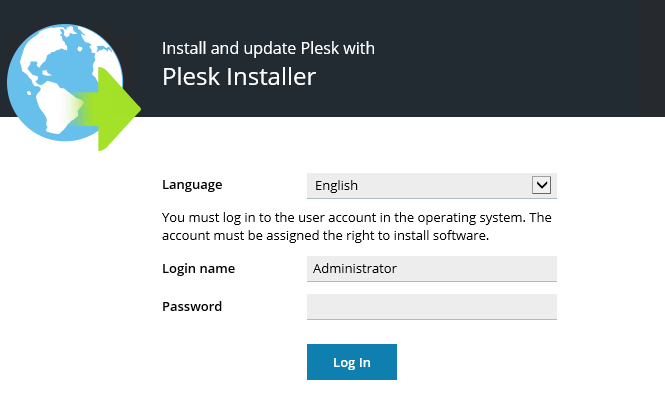 Seleziona la lingua desiderata per l'interfaccia e accedi utilizzando le tue credenziali da amministratore di Windows.

In «Sommario prodotti» puoi visualizzare la versione di Plesk installata attualmente, nonché la versione più recente, se disponibile. Fai clic su Installa o aggiorna prodotto per continuare.

Seleziona nel menu la versione di Plesk e fai clic su Continuare per iniziare l'aggiornamento.