Aggiornamento di Plesk per Windows tramite la console dell'installer
If you want to be able to upgrade to a Plesk version other than the latest stable release, you can upgrade using the interactive console.
Nota: You can upgrade to Plesk Obsidian from Plesk Onyx 17.0 and later. See if your OS is supported. If you use Plesk 12.5 or earlier, upgrade to Plesk Onyx first.
Follow these steps to begin:
Accedi al server tramite RDP.
Scarica Plesk Installer.
Avvia il prompt dei comandi di Windows. Sostituisci la directory di lavoro con quella in cui hai salvato il file binario dell'installer, quindi esegui questo comando:
plesk-installer.exe --console

This will launch the console in the command prompt window.
Se si preferisce utilizzare un'interfaccia grafica durante l'aggiornamento, vedere l'argomento Aggiornamento di Plesk per Windows tramite la GUI dell'installer.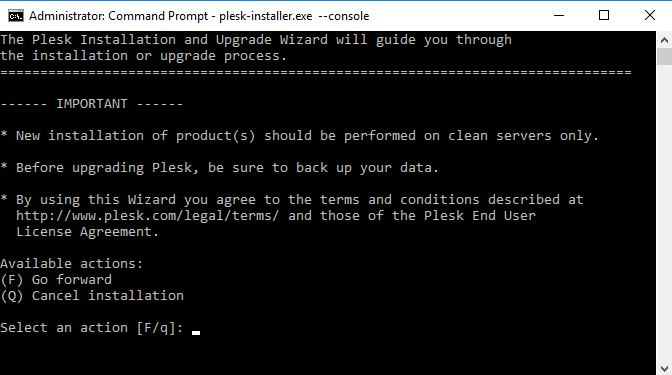 Read the text marked with «IMPORTANT», then type F in the command prompt and hit the Enter key to proceed.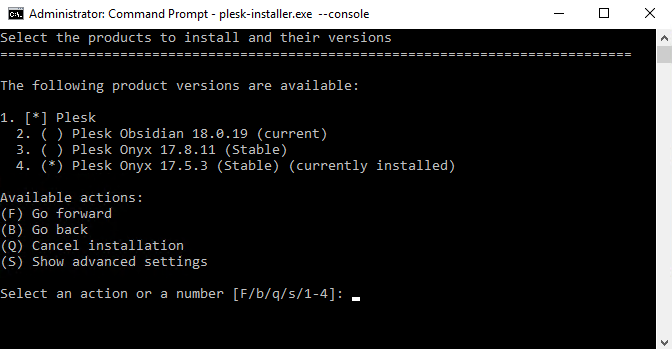 Quindi occorre selezionare la versione alla quale aggiornare Plesk. In questo caso stai per aggiornare Plesk alla release più recente.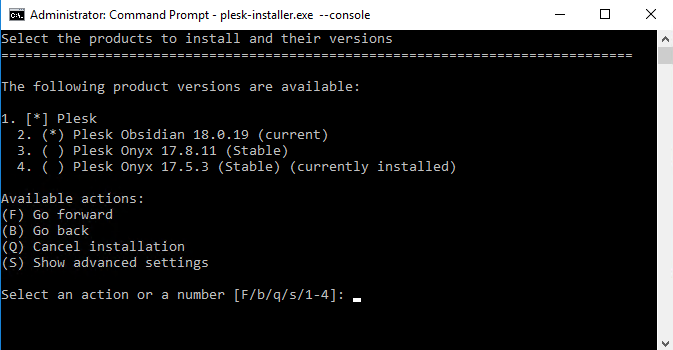 Type F and press Enter to continue.
Per procedere, conferma che desideri effettuare l'aggiornamento. L'installer di Plesk scarica i file di installazione per la versione di Plesk selezionata e ti chiede conferma.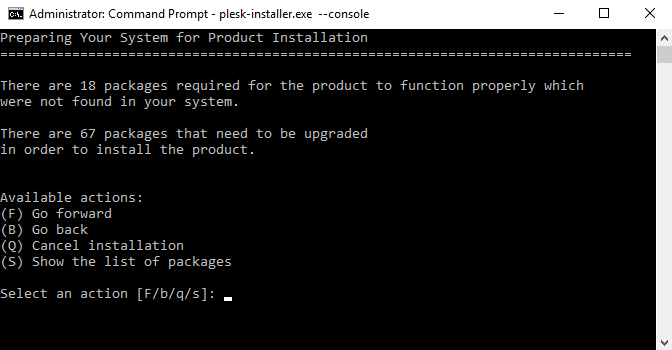 Digita F e premi il tasto Invio per eseguire l'aggiornamento.