Mailinglisten
Wenn Sie Ihren Kunden die Mailinglistenfunktionalität bereitstellen wollen, müssen Sie die entsprechende Komponente installieren und (im Falle von Plesk für Linux) konfigurieren. In neuen Plesk Installationen ist die Unterstützung von Mailinglisten standardmäßig inbegriffen. Sollte Sie auf Ihrem Server fehlen, können Sie sie über den Plesk Installer hinzufügen. Unter Linux müssen Sie dazu die Komponente Mail Hosting > Mailman suchen und unter Windows die Komponente MailEnable mail server.
In Plesk for Linux, you need to configure the mailing list component before the mailing lists functionality can be provided to customers. To do so, go to Tools & Settings > Set Up Mailing Lists Server (found in the Mail section) and specify the mailing list administrator's email and password. After you set up the mailing list administrator's account, the Set Up Mailing Lists Server option will disappear. Afterwards you can configure the mailing list software or change your administrative username and password by browsing https://lists.<your Plesk server hostname>/mailman/admin/mailman.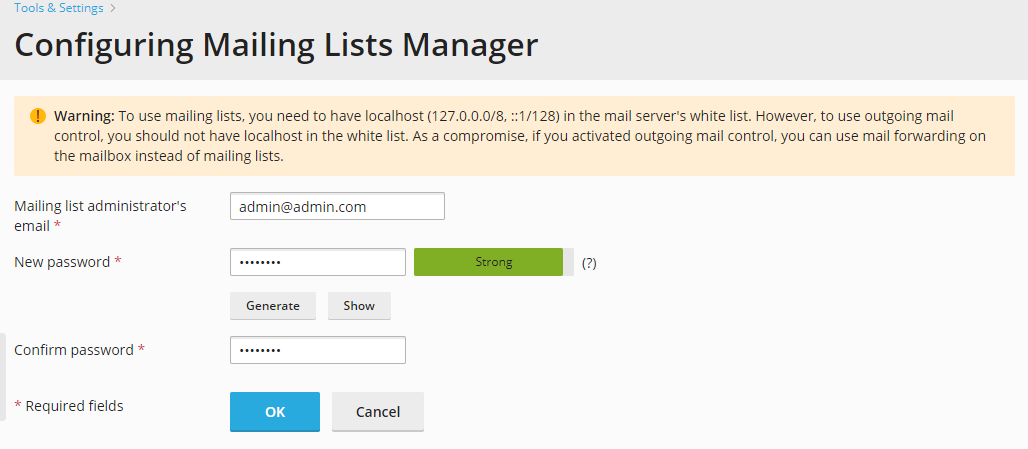 Hervorzuheben ist, dass "localhost" in die Whitelist des Mailservers aufgenommen werden muss, um Mailinglisten zu verwenden. Gehen Sie dazu zu Tools & Einstellungen > Mailserver-Einstellungen, öffnen Sie den Tab Whitelist und fügen Sie 127.0.0.1 zur Whitelist hinzu. Jedoch kann dadurch die Postausgangskontrolle nicht verwendet werden. Wenn Sie sowohl die Postausgangskontrolle als auch Mailinglisten verwenden wollen, können Sie Ihren Kunden vorschlagen, stattdessen die E-Mail-Weiterleitung zu nutzen.